First Read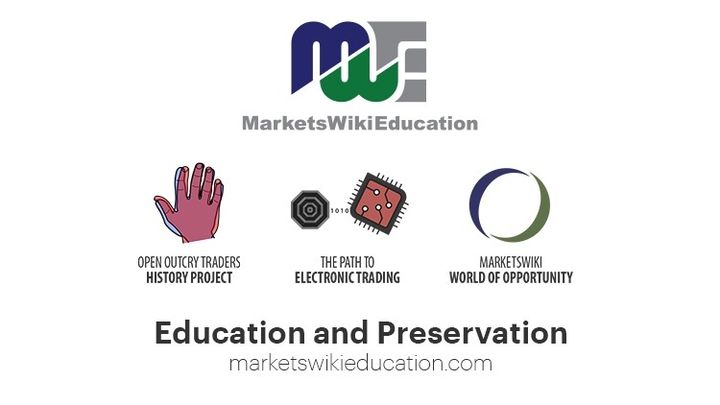 Go Fund Me Campaign for MarketsWiki Education Video Series and John Lothian News
We need your help. John Lothian News is running a GoFundMe campaign to support our MarketsWiki Education history-focused video series and our company at large.
Your contribution will allow JLN to continue its work to capture the history of our industry through our Open Outcry Traders History Project, The Path to Electronic Trading series and more, including MarketsWiki and other MarketsWiki Education content.
We need your support to capture this history and help our company remain at the forefront of keeping the industry informed, educated and we hope occasionally entertained.
To read the rest of the story about the campaign, click HERE.
++++
STA virtual 2020 Market Structure Conference: Some Election Predictions in a Completely Unpredictable Year
Sarah Rudolph – John Lothian News
At the Security Traders Association (STA) 2020 virtual Market Structure Conference Wednesday, Joel Oswald and Chris Wilcox of the D.C. law firm William & Jensen offered their speculations and predictions for the presidential election and the markets in a panel titled "Election 2020: A Crucial Moment."
Crucial indeed. Investors are bracing for what may happen to the markets depending on who becomes president and what happens in the House and the Senate.
According to Oswald, a recent NBC and WSJ poll has Joe Biden leading by 14 points. A few recent polls show a much closer race. After last Tuesday's presidential debate, average polling data appears to be showing a 1.5% gain for Biden. However, "Polling doesn't necessarily matter, as we learned in 2016," Oswald said. "What matters is to get to the magic 270 number [the number of electoral votes necessary to win]. Tonight's vice presidential debate may be more crucial in determining that."
"Polls can predict the popular [vote] outcome but not the electoral college," Wilcox said. "You have to look at the polling in the battleground states – those will really matter." Wilcox added that the polls are only of likely voters, and it is very difficult for pollsters to predict who will actually vote.
To read the rest of this story, go here.
++++
STA 2020: Post-COVID Options Volume Recovers, Volatility Lingers
Suzanne Cosgrove – John Lothian News
When Cboe Global Markets flipped the switch on its trading floor in mid-March and temporarily moved to all-electronic trading in response to the COVID-19 crisis, it also heralded a period of change for the options industry.
"It was a big, big move to take robust open outcry trading to all-electronic over a weekend," said Ed Tilly, Cboe Global Markets's CEO, chairman and president, in an interview at the STA's 2020 Market Structure Virtual Conference on Wednesday.
One change that appeared to be well-received by customers during Cboe's temporary closure of the trading floor was the implementation of a modified version of AIM (automated improvement mechanism) for Cboe S&P 500 options (SPX). AIM offers potential price improvement through an auction process — something that became more important when Cboe went to an all-electronic format.
To read the rest of this story, go here.
++++
Hits & Takes
JLN Staff
Today we announced the launch of a GoFundMe campaign to support our history-focused MarketsWiki Education video series, the Open Outcry Traders History Project and The Path to Electronic Trading, and the overall operation of John Lothian News. These are trying times that call for extraordinary means. It is a time to try something new, especially when the old system is not working.
We are asking for help. We all know the headwinds created by the pandemic, and those that it accentuated. The lack of industry conferences hurt us. That is where we see our readers, sponsors and friends and build relationships which culminate in revenue to support our operation. Industry consolidation, some spurred by the ill effects of the pandemic, continues to eliminate sponsor relationships.
Something as simple as Ceres being closed in the CBOT Building hurts. I could not help but run into people I knew there, and those incidental meetings at Ceres, in the lobby, or even in the elevator were all valuable for developing business.
So we are trying a GoFundMe approach. We hope that some of you who we have touched through the years will contribute. Maybe we interviewed you and it led to an opportunity. Maybe you read something and it saved you money. Or you watched a video and it brought a smile to your face. Whatever the reason that caused goodwill to develop, we hope that you will consider making a contribution to our GoFundMe campaign.
We love what we do. We have a great team. We want to continue to do what we do and keep doing it together. We want to continue to deliver value to you, capture history, inform, educate and entertain you with our products.
I was told I mispronounced Symphony Founder David Gurle's name in my podcast Daily Update. His name is pronounced Gur-Lay, not Gurl. I also continue to have a problem pronouncing Sen. Kelly Loeffler's name on the daily update from time to time. I never heard her name pronounced until she was appointed a U.S. Senator.
Have a great day and stay safe and treat people the same way you want to be treated: with respect, equality and justice.~JJL
++++
++++
Vatican used charity funds to bet on Hertz credit derivatives
Miles Johnson and Robert Smith – Financial Times
The Vatican invested some donations for the poor and needy in derivatives that bet on the creditworthiness of Hertz, the US car rental company that defaulted on its debts earlier this year, according to documents seen by the Financial Times. In 2018, Pope Francis said credit default swaps "encouraged the growth of a finance of chance and of gambling on the failure of others, which is unacceptable from the ethical point of view". The instruments, he said, were "a ticking time bomb".
/on.ft.com/3iGnIOi
*****Finally a trade that has a prayer.~JJL
++++
When You Have Enough, It's Time to Help Others; After decades of striving for money, our columnist says he is focusing on other things.
Paul B. Brown – NY Times
My small house on Cape Cod needs sprucing up, but from the kitchen table, I can see a home that is in much better shape. Its owners hope to sell it for $8 million. This palace — which really isn't overstating things; it looks like a small hotel — is 10,000 square feet, or about five times the size of my home, has seven bedrooms, nine baths and was, according to the real estate listing, "built to capture 180-degree breathtaking ocean and harbor views and receive the natural light at the most appropriate time of day." It is stunning.
/nyti.ms/3iEOtlV
*****You don't have to wait until you have enough to help others. You can start by helping others and you will quickly find you are rich beyond your dreams.~JJL
++++
Wednesday's Top Three
Our top story Wednesday was, of course, Trading Technologies Seeks a Buyer, from Barron's. Second was the disturbing QAnon High Priest Was Just Trolling Away as a Citigroup Tech Executive, from Bloomberg. Third was How 'Animal Crossing' Is Preparing Players to Trade Stocks, also from Bloomberg.
++++
MarketsWiki Stats
189,624,379 pages viewed; 24,442 pages; 226,198 edits
MarketsWiki Statistics
++++
Lead Stories
Cloud Stock Mania Comes With Eerie Echoes of Dot-Com Boom and Bust; Sure, there's a compelling explanation for Snowflake's blockbuster IPO and similar success stories. But haven't we seen this movie before?
Sarah Ponczek – Bloomberg
This year will be remembered as a terrible time for the economy, with a few exceptions. Cloud computing is one. The blockbuster $3.4 billion stock market debut of Snowflake Inc. stands out as a prime example of the industry's success despite a bleak economy. The cloud-data company more than doubled its share price in its first day of trading, on Sept. 16. The same day, another cloud computing company, JFrog Ltd., raised more than $500 million in its initial public offering. A global exchange-traded fund of cloud computing stocks has risen 11 times more than the broader stock market this year.
/bloom.bg/36JpGej
A Columnist Makes Sense of Wall Street Like None Other (See Footnote); Finance journalism isn't known for its writerly voices. Matt Levine, the author of Money Stuff, is an oddball exception.
Emily Flitter – NY Times
On April 20, something occurred that was unprecedented in the history of financial markets: The price of oil went negative. It wasn't the case that the cost of a barrel had fallen to some scary-low number. It actually went below zero, meaning there were traders out there who would pay you to own oil. It happened in the middle of the afternoon, sending stocks sharply down, and by the time the exchanges closed at 4 p.m., many financial news outlets were still struggling to explain why.
/nyti.ms/3da8JL5
LSE Nears $5 Billion Borsa Sale to Euronext, Italian Banks
Tommaso Ebhardt, Jan-Henrik Foerster, and Daniele Lepido – Bloomberg
Borsa Italiana owns government bond trading platform MTS; Euronext bidding with state-backed CDP and Intesa Sanpaolo
London Stock Exchange Group Plc is nearing the sale of Borsa Italiana to Euronext NV and two Italian institutions for about 4.5 billion euros ($5.3 billion) including debt, according to people familiar with the transaction. LSE, which is selling Borsa Italiana to get approval for its $27 billion Refinitiv deal, may announce the sale as early as Friday, said the people, who asked not to be named as the matter is confidential. LSE and Euronext declined to comment.
/bloom.bg/33G0pzJ
A New Kind of Fund That Is Stingier With Information; Once, exchange-traded funds all tried to mirror the market. Now some are trying to beat it, in some cases by concealing their day-to-day trades.
Norm Alster – NY Times
A new kind of fund has entered the marketplace. Whether it is better than its predecessors remains to be seen. The new entrant is known as a nontransparent actively managed exchange-traded fund. That mouthful sounds like a self-contradictory term — an oxymoron, really — but 16 nontransparent active E.T.F.s are already being sold, according to Elisabeth Kashner, vice president and director of E.T.F. research at FactSet.
/nyti.ms/2SELzmU
The role of ESG within Fixed Income. Interview with Aegon Asset Management
Eurex Exchange
Kames Capital, now part of Aegon Asset Management, launched its first ESG fixed income fund two decades ago. Eurex spoke with Adrian Hull, head of fixed income at Aegon Asset Management, to discuss the changes he has seen in the market, the challenges of being an ethical bond investor and to hear what is next in the asset class.
/bit.ly/33HBEmK
Morgan Stanley to buy Eaton Vance in $7bn deal; Investment firm is latest in series of acquisition targets for Wall Street bank
Laura Noonan – FT
Morgan Stanley has agreed to pay $7bn in cash and shares to buy investment management firm Eaton Vance, the latest in a string of recent acquisitions by the Wall Street bank.
/on.ft.com/3jHcJWb
Opec dismisses concerns that peak oil demand is close; Cartel forecasts swift recovery and two decades of growth, in contrast to many in sector
Anjli Raval – FT
Opec expects oil demand to keep growing for the next two decades, in contrast to large segments of the energy sector that believe a peak in consumption is close.
/on.ft.com/3iKui6a
Study warns European Commission to learn from US when developing EU tape; A study from Market Structure Partners carried out for the European Commission has recommended the EU moves forward with plans to form a consolidated tape.
Hayley McDowell – The Trade
Europe should learn lessons from the US when creating an EU consolidated tape, a study undertaken on behalf of the European Commission has concluded. Market Structure Partners, which conducted the report, recommended the Commission moves ahead with forming a post-trade EU tape for equity and debt markets with legislative changes to require the data to be consolidated in law.
/bit.ly/2SDEVgw
JPMorgan Unveils $30 Billion Push to Bridge Racial Wealth Gap; Bank focuses on expanding access to affordable housing and boosting minority-owned small businesses
Orla McCaffrey – WSJ
JPMorgan Chase JPM 1.74% & Co. said it would extend billions of dollars in additional loans to Black and Latino home buyers and small-business owners as part of a push to narrow America's racial wealth gap. The bank—America's largest—said it is committing a total of $30 billion over five years to the effort, which focuses heavily on expanding access to affordable housing as well as boosting minority-owned small businesses.
/on.wsj.com/2Fht4BW
Wells Fargo CEO Finds Himself on Defense After a Tough First Year; Charles Scharf began the job focused on making peace with regulators. Now he has a recession and a morale problem on his hands.
Ben Eisen – WSJ
A long list of challenges confronted Wells Fargo & Co. Chief Executive Charles Scharf when he was brought in to restore the bank's tarnished reputation. In the year since, his problems have only multiplied. America's fourth-largest bank is in the grip of a recession that threatens to deliver steep loan losses. Near-zero interest rates are straining profit margins. And the bank is still in hot water with regulators, which imposed a growth cap as a result of the bank's four-year-old fake-account scandal and the plethora of problems it exposed.
/on.wsj.com/3jCkA7f
Libor Law Is Adrift in Albany and Wall Street Is Getting Nervous
William Shaw and Keshia Clukey – Bloomberg
End of Libor is trouble for many contracts without backup rate; Proposed legislation to address issue has made little headway
For the past seven months, an arcane financial-markets proposal has been collecting dust in the statehouse halls of Albany, New York. Between the pandemic and the racial-justice protests, lawmakers have been so preoccupied that no one in either chamber has even initiated the legislative process on it.
/bloom.bg/2SEAx0J
The Baby Boomer Bond Dilemma; U.S. Treasuries have been the bonds of choice for safe retirement income. But they could deliver no real return for the next decade.
Carla Fried – NY Times
Today's record low bond yields could not come at a worse time for many baby boomers. Owning U.S. Treasuries, the undisputed safest bond for retirees, means signing on for next to nothing in earnings for the next five to 10 years. That's because the current yield of a Treasury bond is a solid estimate of future annual returns, and Treasuries that mature in 10 years or less currently have yields below 1 percent.
/nyti.ms/3d984K1
JPMorgan Pledges Billions in Spending to Fix Racial Wealth Gap
Michelle F Davis – Bloomberg
Biggest U.S. bank to boost Black, Latinx mortgage lending; Executive pay to be tied to progress on diversity initiatives
JPMorgan Chase & Co. committed billions of dollars to help advance racial equity, including a pledge to underwrite home loans for Black and Latinx borrowers and changes to how its own executives' progress on diversity is evaluated.
/bloom.bg/3jICCoe
Wall Street Is Helping Private Equity Recycle Its Old Assets
Benjamin Robertson – Bloomberg
Permira, Riverstone among firms using once obscure strategy; Banks active in sector include Goldman Sachs and Citigroup
Private equity firms are prolonging the shelf lives of their aging assets with deals that are proving increasingly popular with managers, but not with all investors. Firms under pressure to offload assets from their expiring funds are opting to repackage them into new vehicles as the pandemic curbs the usual exit routes via sales or initial public offerings. This once obscure corner of the private equity industry has grabbed Wall Street's attention, with the likes of Goldman Sachs Group Inc. joining investors and Citigroup Inc. advising on deals.
/bloom.bg/2SAl0ir
EU-backed study calls for new body to track equities trades; An authority similar to Finra in the US would have the power to demand data from exchanges and brokers
Philip Stafford – FT
An EU-backed report has called for a new self-regulatory body to track equities and debt trades and impose fines on exchanges and brokers that provide poor data, in an effort to bolster the region's capital markets in the wake of the UK's departure from the bloc.
/on.ft.com/3iI2LlK
Coronavirus
Moderna Vows to Not Enforce Covid-19 Vaccine Patents During Pandemic; The company is also willing to license the technology behind its experimental coronavirus vaccine
Peter Loftus – WSJ
Moderna Inc. MRNA 1.87% said it wouldn't enforce patents related to its experimental Covid-19 vaccine while the pandemic continues and is willing to license the patents to others after the pandemic. The Cambridge, Mass., company has at least seven U.S. patents related to its vaccine, including one for the invention of a vaccine using a gene-based technology to protect against a family of coronaviruses. The family of viruses includes the one that causes Covid-19.
/on.wsj.com/3dbK74P
Tips for staying included and in control during a crisis; Three experts on dealing with remote working and financial pressures during the pandemic\
Amy Bell – FT
In a time of great economic upheaval and uncertainty, workers face huge anxieties over job security and the way they work. We asked the experts for their advice on how women can deal with the new pressures and stresses that have arisen during the pandemic.
/on.ft.com/2GNsbS1
How to hack a second lockdown; The PM's mantra may be 'hands, face, space' but we know the real message is 'haircut, Ocado, loo roll'
Robert Shrimsley – FT
With more social restrictions looming, we are cramming in as many friends as possible before the next lockdown. We are going to the pub before they move last orders to 15 minutes before you arrive. Weekends have been filled with lunches, dinners and even a picnic in the rain as we said hello and goodbye to all those we haven't seen for months and now probably won't see again until Christmas, when, apparently, Covid is taking the day off.
/on.ft.com/3jI42uC
Fragile European Banks Bracing for Covid-Era Distressed Loans
Marion Halftermeyer, Alexander Weber, and Antonio Vanuzzo – Bloomberg
Lenders are still digging out of the euro-area debt crisis; Bailouts could be back on the agenda, some analysts warn
As 2020 dawned, bankers throughout Europe were still digging out of the last crisis, with weak lenders in Greece and Italy peddling soured loans and policy makers channeling public funds to frail institutions.
/bloom.bg/3nwMGmA
Bank rules force staff to turn off NHS COVID-19 tracing app at work
Iain Withers, Sinead Cruise – Reuters
Branch staff at some of Britain's biggest banks say rules that require them to store phones in lockers while at work are putting them at undue risk of COVID-19 from colleagues and customers, as they cannot use the country's tracing app.
/bit.ly/2GKhy2n
Manhattan Apartments Haven't Been This Cheap to Rent Since 2013
Oshrat Carmiel – Bloomberg
Listings triple from a year earlier to the highest on record; Median rent tumbles 11% while the vacancy rate reaches 5.75%
Manhattan renters have never had this many apartments to choose from. And it's been seven years since rents were this low. September proved to be another winning month for bargain-hunters committed to finding a place in New York City's costliest borough — and another month of worry for landlords trying to fill mounting vacancies.
/bloom.bg/33GQ8DC
Pandemic Exposes Holes in Sweden's Generous Social Welfare State; Decades of budget-cutting and market reforms laid the ground for a wave of death in Swedish nursing homes.
Peter S. Goodman and Erik Augustin Palm – WSJ
In the popular imagination, Sweden does not seem like the sort of country prone to accepting the mass death of grandparents to conserve resources in a pandemic.
/nyti.ms/2GKdY8q
Exchanges, OTC and Clearing
SGX Orb Awards winners unveiled, with focus on economic resilience; SGX Orb Awards winners unveiled, with focus on economic resilience
SGX
Third edition of awards part of SGX's efforts to foster financial education, empower investors
Singapore Exchange (SGX) has unveiled the winners of the third edition of its SGX Orb Awards, with a focus on the resilience of the economy and businesses in the past year.
/bit.ly/3iEJEsP
UPDATE: Amendments to the Exercise Price Rule of the Options on Three-Month Eurodollar and Three-Month SOFR Futures Contracts – Addition of 6.25 Basis Point Strike Price Intervals
CME Group
Effective Sunday, November 22, 2020 for trade date Monday, November 23, 2020, Chicago Mercantile Exchange Inc. ("CME" or "Exchange") will amend the Exercise Price rules of the Options on Three-Month Eurodollar Futures (Rulebook Chapter 452A) and Options on Three-Month SOFR Futures contracts (Rulebook Chapter 460A) (the "Contracts") for trading on the CME trading floor, the CME Globex trading platform ("CME Globex") and for submission of clearing via CME ClearPort (collectively, the "Rule Amendments").
/bit.ly/3dhpsMQ
Product Modification Summary: Amendments to the Termination of Trading Rule of Eight (8) Coal Futures and Options Contracts – Effective November 09, 2020
CME Group
Effective Sunday, November 8, 2020, for trade date Monday, November 9, 2020, and pending all relevant CFTC regulatory review periods, New York Mercantile Exchange, Inc. ("NYMEX" or "Exchange") will amend the Termination of Trading rules of eight (8) coal futures and option contracts (the "Contracts") in the table below to align the Contracts' last trade date ("LTD") for December contract months with Argus' current practice
/bit.ly/3da0QoX
New Product Summary: Initial Listing of the Pork Cutout Futures and Options on Pork Cutout Futures Contracts – Effective November 09, 2020
CME Group
Initial Listing of the Pork Cutout Futures and Options on Pork Cutout Futures Contracts.
/bit.ly/3dbntcO
Proposed EPA Regulations Potentially Impacting Summertime Months of the Listing Schedule of the RBOB Gasoline Futures
CME Group
New York Mercantile Exchange, Inc. ("NYMEX" or "Exchange") has been advised that the United State Environmental Protection Agency ("EPA") issued proposed regulations which, if implemented, will potentially impact the summertime months of the listing schedule of the RBOB Gasoline Futures contract (Rulebook Chapter: 191; Commodity Code: RB) commencing in 2021.
/bit.ly/3iHwr2L
Regular Firm Name Change
CME Group
The Exchange was notified that Ranchland Livestock Auction, Inc., an approved livestock yard for Live Cattle futures, has changed its name to Tri-State Livestock Exchange, LLC. The change is a result of an acquisition.
vhttps://bit.ly/3nxw26i
DTCC Launches Consulting Services To Support Firms As Post-trade Ecosystem Continues To Evolve
7 October 2020 ? The Depository Trust & Clearing Corporation (DTCC), the premier market infrastructure for the global financial services industry, today announced the launch of DTCC Consulting Services, a new advisory service to provide market participants around the world with unparalleled access to the firm's expertise and experience in post-trade processing.
/bit.ly/2GtlhSb
Initial Listing of the Thailand Long Grain White Rice (Platts) Futures Contract
CME Group
Effective Sunday, November 22, 2020, for trade date Monday, November 23, 2020, and pending all relevant CFTC regulatory review periods, The Board of Trade of the City of Chicago, Inc. ("CBOT" or "Exchange") will list the Thailand Long Grain White Rice (Platts) Futures contract (the "Contract") for trading on the CME Globex electronic platform and for submission for clearing via CME ClearPort as noted in the table below.
/bit.ly/3dlD1Lj
Equity derivatives: Introduction of new expirations for Single Stock Dividend Futures and EURO STOXX 50® Index Dividend Futures
Eurex Exchange
Eurex Circular 078/20 Equity derivatives: Introduction of new expirations for Single Stock Dividend Futures and EURO STOXX 50® Index Dividend Futures
/bit.ly/2FbssO2
Play Magnus admitted to trading
Euronext
The technology company Play Magnus has today been admitted to trading on Merkur Market (ticker code: PMG-ME). Play Magnus recently raised NOK 452 million through a private placement, consisting of NOK 300 million in new shares and approximately NOK 152 million to existing shareholders. The issue was significantly oversubscribed. "The shareholders have provided the company with NOK 300 million in fresh equity, which will be used for technology development and further growth", states the company.
/bit.ly/33HwQhf
MOEX rings the bell for financial literacy
MOEX
On 8 October 2020, MOEX held an opening bell ring ceremony to support Ring the Bell for Financial Literacy initiative. The online ceremony was held as part of MOEX Home Talks. Guest speakers were Mikhail Mamuta, Head of the Bank of Russia's Service for Consumer Protection and Financial Inclusion and a Member of the Bank of Russia Board of Directors; Vladimit Potapov, CEO of VTB Capital Investments and Senior Vice President of VTB Bank; Dmitry Panchenko, Head of Tinkoff Investments; and Artem Golubev, Director of Brokerage Business at Sberbank. The meeting was moderated by Maria Kharlashkina, Deputy Head of Strategy of MOEX.
/bit.ly/2SzdIf4
SET Market Report For September 2020
Mondovisone
The Stock Exchange of Thailand (SET) Index at end-September closed at 1,237.04 points or 5.6 percent lower than the previous month as several factors, including slower-than-expected COVID-19 vaccine development, concerns on global economic recovery delays and local political uncertainty, weighed on investors' sentiment. SET Index fell 21.7 percent from end-2019, but still fared than MSCI ASEAN which shrank 24.7 percent.
/bit.ly/33IAkAd
Fintech
Chinese Fintech Company Lufax Plans U.S. IPO; Online lending and investment firm could raise about $3 billion, according to a person familiar with the situation
Joanne Chiu – WSJ
One of China's largest financial-technology companies, Lufax Holding Ltd., is planning an initial public offering in the U.S., even as some other Chinese companies are opting to sell stock closer to home. Lufax, which operates online investment and lending platforms, on Wednesday filed to list American depositary shares on the New York Stock Exchange. It didn't disclose any fundraising details and used a placeholder $100 million sum to calculate its registration fee.
/on.wsj.com/3daRnOg
Colombian fintechs fill Latin American banking gaps; Investors pour $1bn into an industry spurred by financial inclusion and undeterred by money laundering curbs
Mariana Palau – FT
When it comes to smartphone apps, banks in Latin America have been behind the curve. Movizzon, a Colombian fintech company, is helping them change that.
/on.ft.com/2SDod0U
PPP Scammers Made Fintech Companies Their Lenders of Choice; The government turned to web-based lenders to get money out quickly, without too much paperwork.
Michelle F Davis – Bloomberg
In April the Paycheck Protection Program was under fire for moving too slowly and leaving too many people out. Part of the $2 trillion Cares Act, it was set up to offer forgivable loans to small businesses such as restaurants and hair salons that would help keep them afloat through the Covid-19 lockdowns in the U.S. Banks were initially in charge of administering the government-backed payments. In an effort to distribute the desperately needed money faster, web-based companies were later allowed into the program. Grateful businesses praised their speed.
/bloom.bg/2GIIMX0
Broadridge Names Vijay Mayadas to Lead Capital Markets
Broadridge
Broadridge Financial Solutions, Inc. (NYSE:BR), a global Fintech leader, today announced that Vijay Mayadas has been appointed President of Capital Markets. In this newly created position, he will lead Broadridge's trading and post-trade capital markets SaaS solutions as part of the Global Technology and Operations (GTO) business.
/bit.ly/3ddC4EK
Liquidnet Launches Investment Analytics Business
Press Release
Liquidnet, the technology-driven global institutional investment network, announced the official launch of its third business, Investment Analytics (IA). The new business combines the latest AI technologies, including machine learning (ML) and natural language processing (NLP), to uncover hidden insights within data and alerts users to key factors influencing their investments. The suite is comprised of four products, each tailored to a specific audience: IA Trader, IA PM, IA RSRCHX and IA APIs.
/bit.ly/3jCtr8Z
TRG Screen Unveils Its Vision For Optimizing Market Data Subscription Management – The New Optimize Platform Will Make It Easier For Financial Services Firms To Fully Optimize Their Subscription Spend And Usage
Mondovisiione
TRG Screen, the leading provider of enterprise subscription management solutions, today announced its vision that will empower financial services firms to fully optimize their market data and information service subscriptions. Optimize will integrate TRG Screen's suite of enhanced subscription management products into a single, best-of-breed platform.
/bit.ly/3jKJl15
Cryptocurrencies
The strange IPO of Jonathan Rowland's "bitcoin bank"
Jemima Kelly – FT
You might remember a story we wrote in September about a new "bitcoin bank" with aspirations to become a challenger to Monzo. Mode, headed up by serial hype-meister entrepreneur Jonathan Rowland, was planning a £40m float on the London Stock Exchange, which came to fruition on Monday. Rowland, as it turns out, is the son of the property tycoon, Tory donor David "Spotty" Rowland (who's also mates with Prince Andrew). So it's safe to say he has friends in high places.
/on.ft.com/3jNt77C
Why Central Bankers Got Serious About Digital Cash
Alastair Marsh and Carolynn Look – Bloomberg
What central banks once sneered at, they're now scrambling to master. Back when Bitcoin, the world's first cryptocurrency, was seen as the province of anarchists and drug dealers, it was easy for the world's central bankers to keep their distance. That changed in a hurry after Facebook Inc. proposed creating its own digital currency, Libra. Suddenly, the concept was seen as both practical and as a potential threat to existing monetary regimes. The central banks of China, the euro area, the Bahamas and others have been experimenting in the field, while others, including the U.S. Federal Reserve and Bank of England, are conducting research but not plunging in, at least for now.
/bloom.bg/3jKPgDw
BitMEX announces leadership changes after U.S. government charges, Arthur Hayes no longer CEO
Yogita Khatri – The Block
Crypto derivatives exchange BitMEX has today announced leadership changes, a week after the U.S. government charged its four founders and executives. Arthur Hayes, one of the defendants in the case, is no longer BitMEX CEO, from immediate effect. Similarly, another named and arrested defendant, Samuel Reed is no longer the exchange's CTO. The third defendant in the case, founder Ben Delo, will not hold executive positions in the 100x Group, the parent company of BitMEX. Additionally, Greg Dwyer will take a leave of absence from his role as head of business development.
/bit.ly/34AIA4q
Coinbase's 'Mission' Violates the Spirit of Bitcoin
Emily Parker – Coindesk
Coinbase CEO Brian Armstrong recently sparked a firestorm by announcing his company would now be "apolitical." In a memo posted on Medium, Armstrong argued that political divisions were undermining productivity, and Coinbase should remain laser-focused on its mission. The company then offered severance packages, giving employees until Wednesday, Oct. 7 to send a form signaling their interest. Staying at Coinbase would indicate you are on board with the company's new direction, Armstrong wrote. Emily Parker is CoinDesk's Global Macro Editor.
/bit.ly/36IOkM4
Bitcoin Options Volume on CME Jumps 300% as Traders Take Bullish Bets
Omkar Godbole – Coindesk
Activity in bitcoin options listed on the Chicago Mercantile Exchange (CME) surged Wednesday, as investors traded call options, or bullish bets. According to data source Skew, the CME traded $48 million-worth of options during the day – the highest daily volume figure since July 28. The number marks a 300% rise from Tuesday's figure of $12 million. "The CME options had a strong session, and the spike in the volume was mainly due to increased activity in call options," Skew's Goh told CoinDesk over Telegram.
/bit.ly/3jKHDg4
Google Cloud Does Not Intend to Take EOS Rewards as a Block Producer
Brady Dale – Coindesk
Google Cloud is not getting into EOS for the tokens. "Google Cloud is not getting into crypto mining. This is really an infrastructure play for us," Google Cloud Developer Advocate Allen Day told CoinDesk via a spokesperson. On Tuesday, Block.one, the company that made the EOSIO software that runs the EOS blockchain, announced that Google Cloud had begun preparations to list itself as a candidate to serve as a block producer – one of the 21 nodes chosen by the EOS community to serve effectively the same role as miners on Bitcoin or Ethereum. EOS, however, allows for much faster transactions than either of the two largest blockchains but has been dogged by governance issues.
/bit.ly/33CS7sq
Hackers move more than $26 million in bitcoin stolen from Bitfinex in 2016
Michael McSweeney – The Block
More than $26 million in bitcoin tied to the 2016 hack of crypto exchange Bitfinex was moved across seven transactions on Wednesday. The transactions, captured by the Twitter-based data bot Whale Alert, are the first of their kind since August. Six of Wednesday's transactions ranged between $4.1 million and $4.8 million in value, with one smaller transaction of about $12,000.
/bit.ly/3iHCsMD
Indian crypto exchange Unocoin raises $3.5 million Series A led by Draper Associates
Yogita Khatri – The Block
Unocoin, one of India's oldest cryptocurrency exchanges, has raised $3.5 million in Series A, CEO Sathvik Vishwanath told The Block in an interview. The round was led by Tim Draper's Draper Associates, with participation from XBTO Ventures, 2020 Ventures, and others. Vishwanath said the round is still ongoing, and Unocoin is looking to raise an additional $1.5 million in the coming months.
/bit.ly/3nvhBQo
Winklevoss-Founded Crypto Exchange Gemini Hires Former Morgan Stanley Exec
Sebastian Sinclair – Coindesk
U.S.-based cryptocurrency exchange Gemini has tapped a former Morgan Stanley executive for its operations in Asia. Andy Meehan will act as the firm's chief compliance officer for the Asia Pacific, overseeing strategic compliance and regulatory relationships within the region. Per a Thursday press release, Meehan will be responsible for ensuring Gemini's alignment with regulatory guidelines, shaping strategy, product and operations. Meehan brings with him years of experience in compliance, having worked at large law firms such as Hong Kong's Kobre & Kim and financial services firm Credit Suisse.
/bit.ly/2SA6wPR
KPMG Airs Blockchain Solution to Help Corporates Offset Carbon Emissions
Sebastian Sinclair – Coindesk
"Big Four" professional services firm KPMG has announced a new patent-pending blockchain solution intended to help organizations measure, report and offset their greenhouse gas emissions. According to a Tuesday press release, the firm describes its Climate Accounting Infrastructure (CAI) as a transparent platform that offers companies a means to trace their emissions. The CAI is intended to complement an organization's existing systems including IoT sensors with outside data sources to set up an indelible record of emissions on a blockchain.
/bit.ly/36Lh0UU
Politics
In a First, New England Journal of Medicine Joins Never-Trumpers; Editors at the world's leading medical journal said the Trump administration "took a crisis and turned it into a tragedy."
Gina Kolata – NY Times
Throughout its 208-year history, The New England Journal of Medicine has remained staunchly nonpartisan. The world's most prestigious medical journal has never supported or condemned a political candidate. Until now.
/nyti.ms/3jG0bhy
Fed Tenure Boosts Lael Brainard as Potential Biden Treasury Pick; Policy maker has played key roles in shepherding central bank's Covid-19 pandemic response
Nick Timiraos – WSJ
When the coronavirus pandemic sparked a financial panic in March, Federal Reserve Chairman Jerome Powell turned to Lael Brainard to manage lending programs designed to prevent frozen markets from making the downturn worse.
/on.wsj.com/3daRR72
Donald Trump is risking a Covid election blowout; If the race stays focused on the pandemic, polls suggest Joe Biden will win
Edward Luce – FT
"Don't be afraid of Covid" was Donald Trump's message on leaving hospital this week. To say he was tempting fate would be an understatement. The US president could not know where the disease would leave him. He ought to know that the only way he could win re-election is by focusing on anything but the pandemic. The polls are unequivocal on that: a clear majority of Americans do not trust what he says about the disease. That was true long before he fell sick and is likely to remain true on November 3.
/on.ft.com/2FaFg7h
Ant Group Faces U.S. Headwinds in Race to IPO Before Trump Vote
Julia Fioretti, Lulu Yilun Chen, and Abhishek Vishnoi – Bloomberg
U.S. is exploring restrictions on Chinese payment services; Upcoming U.S. election likely to bring market turbulence
Jack Ma's Ant Group has a narrow window to make its much-anticipated market debut ahead of U.S. election turbulence. Now its bankers must grapple with any potential delays stemming from a debate in Washington over restrictions on the payments behemoth.
/bloom.bg/3jInlnE
Trump says he will not participate in virtual debate; President calls planned online town hall format 'ridiculous'
James Politi – FT
Donald Trump has said he will not take part in the second US presidential debate after the independent commission that sets debate rules announced it would be held remotely because of coronavirus concerns.
/on.ft.com/2GNzWr7
The Trump administration awarded P.P.E. contracts to inexperienced companies.
David Gelles and Rachel Abrams – NY Ties
The Defense Department last month awarded a handful of unexpected and inexperienced companies with multimillion-dollar contracts to produce disposable medical gowns to protect workers on the front lines of the coronavirus pandemic.
/nyti.ms/2GSfHZ2
Why Conspiracy Theories Are So Addictive Right Now; QAnon, #TrumpCovidHoax and other conspiracy theories may be part of a larger authority crisis created by the internet.
Kevin Roose – NY Times
The other night, as President Trump convalesced at Walter Reed, I took a spin through social media to see the latest news on his health.
/nyti.ms/3iI46ZO
Anxious for a Lifeline, the U.S. Economy Is Left to Sink or Swim; President Trump cut off negotiations over a new aid package on Tuesday. Economists of all stripes agree that could be a costly mistake.
Ben Casselman and Jim Tankersley – NY Times
Here is the situation the U.S. economy faces, a month before Election Day: Job growth is stalling. Layoffs are mounting. And no more help is coming, at least not right away.
/nyti.ms/33ItbzU
Wait, Wall Street Is Pro-Biden Now? Investors are warming to the possibility of a "blue wave" as Joseph R. Biden Jr. rises in the polls and the chances of a contested election diminish.
Matt Phillips – NY Times
The suspense surrounding the next round of fiscal stimulus — will there or won't there be a deal — has whipsawed markets this week. Investors first pushed stocks up on news of progress between Congress and the White House, only to pull back on Tuesday when President Trump said on Twitter that there would be no fresh stimulus. Mr. Trump then backtracked, demanding that Congress pass a relief bill, pushing the market up again.
/nyti.ms/2GOQXRu
Facebook to Suspend U.S. Political Ads on Election Day; Social-media company takes its latest step to combat potential confusion and abuse related to vote
Jeff Horwitz – WSJ
Facebook Inc. FB -0.21% said it would suspend indefinitely all political and social-issue advertising in the U.S. after the polls close Nov. 3, in its latest move to combat potential confusion and abuse related to the election.
/on.wsj.com/2GRYPSf
Trump's Taxes Show Something's Wrong With the Capital System; We keep throwing too much good money after bad.
Noah Smith – Bloomberg
The world is finally learning the details of President Donald Trump's taxes. The revelations raise all kinds of issues, from the president's own conflicts of interest to the degree to which the wealthy are able to game the tax system. But Trump's taxes also show there are potentially serious problems in the way the U.S. financial system allocates capital. Over the past decade, Trump lost large amounts of money on a series of businesses — golf courses, hotels, resorts, and so on. These were operating losses, rather than losses from investment in business growth. While it's possible those losses were overstated with creative accounting, the overall takeaway is that Trump isn't very good at creating profitable businesses. What's more, he has hundreds of millions of dollars in loans still outstanding.
/bloom.bg/2GOxKzk
Prestigious medical journal calls for US leadership to be voted out over Covid-19 failure
Jacqueline Howard, CNN
In an unprecedented move, the New England Journal of Medicine on Wednesday published an editorial written by its editors condemning the Trump administration for its response to the Covid-19 pandemic — and calling for the current leadership in the United States to be voted out of office.
/cnn.it/3iE97mh
Regulation
Former director charged with making a false statement
ASIC
Following an ASIC investigation, Mr Marcus McDermott of Morton New South Wales has been charged with making a false or misleading statement in a document lodged with ASIC.
/bit.ly/2I2klo0
Regulators Fine Citigroup $400 Million Over 'Serious Ongoing Deficiencies'; Fed, OCC order the nation's third-largest bank to fix its risk-management systems
David Benoit – WSJ
Federal banking regulators on Wednesday fined Citigroup Inc. C 0.97% $400 million and ordered the nation's third-largest bank to fix its risk-management systems, citing "significant ongoing deficiencies." In a consent order agreed to by the New York bank's board, the Federal Reserve faulted Citigroup for falling short in "various areas of risk management and internal controls" including data management, regulatory reporting and capital planning. The Office of the Comptroller of the Currency, in a separate consent order, said the fine was punishment for the bank's "longstanding failure" to remedy problems in its risk and data systems.
/on.wsj.com/33DzUem
Ex-Deutsche Bank Star Out of Prison After Euribor Conviction
Gaspard Sebag and Ellen Milligan – Bloomberg
Bittar spent 23 months in jail after Euribor guilty plea; Ex-trader was sent to France weeks before Covid-19 lockdown
Christian Bittar, one of Deutsche Bank AG's highest-paid traders before he pleaded guilty to rate-rigging, was freed from a British prison earlier this year after 23 months. Bittar was released in February and sent to France under what's known as an "early removal scheme."
/bloom.bg/3d7UlDj
ESMA Issues Latest Double Volume Cap Data
ESMA
The European Securities and Markets Authority (ESMA), the EU's securities markets regulator, has today updated its public register with the latest set of double volume cap (DVC) data under the Markets in Financial Instruments Directive (MiFID II).
/bit.ly/2GK7JS2
FINRA to Hold Artificial Intelligence (AI) Virtual Conference and FinTech Office Hours
FINRA
FINRA today announced the opening of registration for the 2020 FINRA Artificial Intelligence (AI) Virtual Conference and FinTech Office Hours Nov. 9-10.
/bit.ly/33FEit4
SEC Names Nichola L. Timmons Chief of New Office of Bankruptcy, Collections, Distributions, and Receiverships
SEC
The Securities and Exchange Commission today announced that Nichola L. Timmons has been named Chief of the newly-formed Office of Bankruptcy, Collections, Distributions, and Receiverships in the Division of Enforcement.
/bit.ly/3jNDNmI
SEC to Hold National Compliance Outreach Seminar for Investment Companies and Investment Advisers Virtually
SEC
The Securities and Exchange Commission today announced that it has rescheduled its compliance outreach program's national seminar for investment companies and investment advisers to Nov. 19, 2020. This program is intended to help Chief Compliance Officers (CCOs) and other senior personnel at investment companies and investment advisory firms enhance their compliance programs for the protection of investors. The November program will be offered as a live webcast—both speakers and attendees will be participating in the program remotely. All live webcast attendees may view the program real-time, access presentation materials, and submit questions to the speakers during the presentation. Questions for the panels may also be submitted prior to the event to ComplianceOutreach@sec.gov.
/bit.ly/2GMNYZU
SEC Proposes Conditional Exemption for Finders Assisting Small Businesses with Capital Raising
SEC
The Securities and Exchange Commission today voted to propose a new limited, conditional exemption from broker registration requirements for "finders" who assist issuers with raising capital in private markets from accredited investors. If adopted, the proposed exemption would permit natural persons to engage in certain limited activities involving accredited investors without registering with the Commission as brokers. The proposed exemption seeks to assist small businesses to raise capital and to provide regulatory clarity to investors, issuers, and the finders who assist them.
/bit.ly/3iHz84n
CFTC Charges Wisconsin Firm and its Manager with Registration, Disclosure, and Recordkeeping Violations
CFTC
The Commodity Futures Trading Commission announced the filing of a civil enforcement action in the U.S. District Court for the Eastern District of Wisconsin against Southwest Services, L.L.C. a/k/a South West Services, LLC and its sole managing member, Timothy A. Sack of Oshkosh, Wisconsin.
/bit.ly/3d9Hy30
ICYMI: Oxford University Publishes Chairman Tarbert's Article on Dodd-Frank's Derivatives Reforms; Excerpts from Chairman Tarbert's Article in Oxford's Journal of Financial Regulation: "The Enduring Legacy of Dodd-Frank's Derivatives Reforms"
CFTC
"The Dodd-Frank Act was a momentous and controversial legislative response to the 2007 – 09 financial crisis. Although some of its provisions have subsequently been challenged in the courts and overturned by a bipartisan Congress, other aspects of the Dodd-Frank Act are likely to stand the test of time. Chief among these are Dodd-Frank's Titles VII and VIII, which govern derivatives."
/bit.ly/33GZGOF
FCA, FSCS and the Ombudsman service publish joint statement on German Property Group (also known as Dolphin Capital/Dolphin Trust/Red Rock), together referred to as GPG
UK FCA
Joint statement from the Financial Conduct Authority (FCA), the Financial Services Compensation Scheme (FSCS) and the Financial Ombudsman Service (the Ombudsman service) on an unregulated, overseas property investment scheme.
/bit.ly/3d7jvC2
Bank of England urges hard line on property funds
Huw Jones – Reuters
The Bank of England (BoE) on Thursday backed plans to make investors wait up to six months before getting money back from property funds, saying there could be benefits from an even longer delay.
/reut.rs/3iBmQu8
Autorité Des Marchés Financiers: Extensive Update Of The Governance And Compliance Guide For Registrants
Mondovisione
The Autorité des marchés financiers (AMF) is strengthening its role as a local regulator close to its markets and improving its delivery of services by publishing a new edition of its Governance and Compliance Guide for registrants under the Act respecting the distribution of financial products and services (pdf – 5 MB) This link will open in a new window. The updated version of this reference tool is designed to offer better support to the industry, particularly on compliance.
/bit.ly/3jIpQX5
Investing and Trading
Central banks flip to gold sales after record rally; Uzbekistan offloads the most to help patch its pandemic-hit economy
Henry Sanderson – FT
Central banks became net sellers of gold in August for the first time in a year and a half, in the latest indication that demand for the metal is slowing following a record-setting rally. Global central banks sold a net 12.3 tonnes of gold over the month, according to estimates published on Wednesday by the World Gold Council, an industry-backed body. The shift came just as the precious metal reached a record high above $2,070 a troy ounce in early August. It has since fallen more than 8 per cent to $1,890 per ounce.
/on.ft.com/33HyQWK
Chocolate groups gain ground on bean-to-bar tracing; Producers make headway in disclosing product origins as farmers continue to suffer from low incomes
Emiko Terazono and Neil Munshi – FT
In the cut-throat world of chocolate, big businesses have kept information on their supply chains close to their chests. But as scrutiny grows of the role of child labour and deforestation in what remains a largely informal industry, and policymakers step up regulation, they are finally making headway in mapping and disclosing their products' origins.
/on.ft.com/2GRMVb1
Why Yield Curves Can Be Bull or Bear, Flat or Steep
Brian Chappatta and Liz McCormick – Bloomberg
Last year, the yield curve went mainstream as an economic indicator, as inversions of the curve sent chills down investors' spines. That's because inversions — times when long-term interest rates are lower than shorter ones — have often heralded recessions. Since then, we have indeed fallen into a recession, but one driven by the pandemic, an unforeseen factor. Now the yield curve is showing what else it can do. Currently, bear steepening has taken hold, driven by a tidal wave of monetary support. Here's a look at what that means, and at the other varieties of yield curve convolution.
/bloom.bg/36I3UYe
The 50 Richest Americans Are Worth as Much as the Poorest 165 Million; A look at U.S. wealth data through the first half of 2020 shows stark disparities by race, age and class.
Ben Steverman and Alexandre Tanzi – Bloomberg
The 50 richest Americans now hold almost as much wealth as half of the U.S., as Covid-19 transforms the economy in ways that have disproportionately rewarded a small class of billionaires. New data from the U.S. Federal Reserve, a comprehensive look at U.S. wealth through the first half of 2020, show stark disparities by race, age and class. While the top 1% of Americans have a combined net worth of $34.2 trillion, the poorest 50% — about 165 million people — hold just $2.08 trillion, or 1.9% of all household wealth.
/bloom.bg/33EyJer
Big Tech Buyout Fantasies May Be on Hold; Government's ambitious case against tech giants faces many hurdles, but curbing M&A activity seems certain
Dan Gallagher – WSJ
While much remains uncertain about the federal government's ambitious case against big tech, at least one outcome seems highly likely: Tech giants won't be able to buy their way to growth anytime soon.
/on.wsj.com/2FfWzUG
Post Covid, how stock picking changed for a mutual fund manager
The Economic Times
If normal economic activity does not resume and we continue to remain under pandemic pressure, then defensives will do well despite their high valuations. But if normal economic activity resumes and we see a better medical situation, then the non-defensives will do well, says Nilesh Shah, MD, Kotak AMC
/bit.ly/2SCkXCT
Pandemic Rocks Private-Markets Fundraising; Fund closings fell in the third quarter but a record number are seeking cash
Ted Bunker and Preeti Singh – WSJ
A record number of private-market investment firms are seeking capital despite the coronavirus pandemic, which held back fund closings during the third quarter, according to data provider Preqin Ltd.
/on.wsj.com/3d9QiGp
Ruby Tuesday Files for Bankruptcy Under Strain From Coronavirus
Becky Yerak – WSJ
Ruby Tuesday Inc. filed for bankruptcy protection with plans to permanently close about 45% of its company-owned locations because of fallout from the coronavirus pandemic and continued pressure on the casual-dining sector.
/on.wsj.com/2SF7muF
Dividend Funds Can Add Income, and Risk, to Your Portfolio; The yield from a dividend fund can beat the scant rates paid these days by Treasuries and investment-grade bonds, if you can stomach the ups and downs of the underlying stocks.
Tim Gray – NY Times
You can increase your investment income by buying a mutual or exchange-traded fund that owns dividend-paying stocks. Whether you should is a thornier question.
/nyti.ms/3iGmjHi
Environmental, Social and Corporate Governance
The Labor Department's Latest Blow Against ESG Investing
Leslie P. Norton – Barron's
The Labor Department is getting closer to dealing a one-two punch to ESG investing. Even as it weighs a controversial rule that would limit the ability of 401(k) plans to make sustainable investments, Labor is considering another rule about proxy voting that may also make it harder to practice environmental, social, and governance investing, analysts say.
/bit.ly/36KMWsg
The intersection of securities lending and ESG investing
Bridget Realmuto LaPerla and Travis Whitmore – Corporate Secretary
In early December 2019 the Japanese Government Pension Investment Fund announced that it had 'decided to suspend stock lending until further notice.' This is one example of a growing number of asset owners evaluating their securities lending practices due to ESG concerns as long-term investors. Concerns have been raised that short-sellers (borrowers) could potentially undermine long-term stewardship efforts by mispricing or not considering ESG characteristics.
/bit.ly/2FceCuN
Active management matches clients to the right ESG funds
Stephen Little – FT Advisor
The coronavirus pandemic sent stock markets plummeting earlier this year, but many environmental, social and governance funds managed to weather the storm. Throughout the crisis, companies that have strong sustainable credentials have tended to outperform those that do not. ESG portfolios have fared better than conventional portfolios and are attracting record levels of cash as they have proved they can offer comparable returns.
/bit.ly/3no6SXQ
Goldman Plays ESG Card in 'Strategic' Latin America Debt Push
Caleb Mutua and Ezra Fieser – Bloomberg via Yahoo! Finance
Goldman Sachs Group Inc. is boosting its presence in Latin America with a focus on debt for social and environmentally-friendly uses amid growing demand for sustainable emerging market bonds. "Latin America is an incredibly strategic region of the world for us so you should see more influence and more emphasis there going forward," said Christina Minnis, co-head of global credit finance at Goldman, in a Sept. 28 phone interview. The firm opened an office in Peru this year, adding to its presence in Sao Paulo, Mexico City, Santiago, and Buenos Aires. It has structured more than $10 billion of bond sales from Latin America in 2020, making it the fourth biggest underwriter, up from ninth last year, according to data compiled by Bloomberg.
/yhoo.it/33CV6kC
Institutions
Former Barclays veteran D'jelal to join UBS as head of cross-asset platform Neo; Pandemic Rocks Private-Markets Fundraising; Fund closings fell in the third quarter but a record number are seeking cash
Ted Bunker and Preeti Singh – WSJ
A record number of private-market investment firms are seeking capital despite the coronavirus pandemic, which held back fund closings during the third quarter, according to data provider Preqin Ltd.
/on.wsj.com/3d9QiGp
Nej D'jelal will head to UBS early next year and lead its Neo trading platform, according to sources.
Hayley McDowell – The Trade
Swiss investment bank UBS has hired former head of electronic equities product for Europe at Barclays Nej D'jelal to lead its cross-asset trading platform Neo, The TRADE understands. D'jelal will join UBS early next year as head of the Neo platform at UBS, sources familiar with the matter told The TRADE. A spokesperson at UBS declined to comment on the appointment.
/bit.ly/34wm1xK
Bank of America provides client clearing at LCH CDSClear; LCH continues to expand membership of CDSClear and its client clearing franchise with Bank of America the latest institution to go live as a clearing broker.
Annabel Smith – The Trade
Bank of America has cleared its first trade with Aegon after going live with client clearing for credit derivatives at central counterparty LCH CDSClear.
/bit.ly/3jIhsXB
Wells Fargo lays off 700, sees deeper cuts to come
Thornton McEnery – NY Post
Charlie Scharf is kicking more folks off the stagecoach. The Wells Fargo chief has resumed layoffs after his plans were stymied by the onset of the coronavirus, and will move forward with deeper job cuts as he gets back to cutting costs at the scandal-plagued megabank.
/bit.ly/3dgI3Zh
JPMorgan pledges $30 billion to narrow the racial wealth gap
Thornton McEnery – NY Post
Jamie Dimon is setting aside $30 billion of JPMorgan Chase's money to help narrow the racial wealth gap in America. The CEO of the nation's largest bank announced on Thursday that the bank will use the unprecedented sum over the next five years toward efforts it thinks will help level the racial playing field in the US.
/bit.ly/36EM20y
Vanguard faces roboadviser competition from Chinese partner; Ant Group signals wish to expand beyond its joint venture platform
Selena Li – FT
Chinese financial technology giant Ant Group plans to upgrade its fund portfolio services provision in a move that could bring it into direct competition with Bang Ni Tou, its roboadviser platform that it launched as joint venture with Vanguard.
/on.ft.com/33KWlhT
Small businesses slam banks for restricting bounceback loans; Mounting concerns over fraud and defaults push lenders to vet new borrowers as deadline looms
Claer Barrett and Andy Bounds – FT
Small business owners are struggling to access government-backed loans as concerns about fraud and future defaults cause banks to restrict access to the scheme. This week, the National Audit Office warned that up to £26bn of the £38bn already loaned under the bounceback loan scheme may never be repaid due to company failures and suspected criminal activity.
/on.ft.com/2SAn1v1
BNP Paribas Asset Management Announces Three New Hires For Asian Equities Team Based In Hong Kong
Mondovisiione
BNP Paribas Asset Management ('BNPP AM') announces three appointments for its Asian Equities team based in Hong Kong. Zhikai Chen has been appointed Head of Asian Equities, effective 8 October. He will replace Arthur Kwong who will leave the firm to pursue other opportunities, and will report to Guy Davies, Global CIO for Fundamental Active Equities.
/bit.ly/2FbAVki
Regions
Milking a Former London Cow Barn for All It's Worth; Larry Osborne and Daniel Reynolds renovated this milk depot-turned-house into a modern, high-end home. Now they're moving on.
Ruth Bloomfield – WSJ
Victorian Londoners were often woken by the clip-clop of horse-drawn wagons delivering fresh milk in the early morning. Before refrigeration became commonplace, milk had to be delivered straight from the cow, and it was common for city neighborhoods to each have their own mini-dairy serving the local community.
/on.wsj.com/3d8c2Cy
Italy's Got One Shot to Make Good on Its Bond-Market Lifeline
John Ainger and Alessandra Migliaccio – Bloomberg
Benchmark yields are nearing record lows on stimulus support; Bonds' implied rating is A2 vs Italy's Baa3: Moody's Analytics
Just looking at Italian bonds, observers would have little clue about the nation's dire economic situation. Instead of trading as though its credit rating is on the precipice of junk status, the debt is acting more like a haven, according to Moody's Analytics data. Italy's coalition government can raise money for 10 years at 0.78%, a few basis points shy of a record low. The spread over German bonds, a key gauge of risk, is the narrowest in years.
/bloom.bg/3dhkG1S
China's Financial Markets Set for Calm Start After 8-Day Break
John Cheng and Tian Chen – Bloomberg
Offshore yuan's strength signals further gains ahead onshore; Chinese shares listed in Hong Kong are up 2.4% this month
Chinese financial markets will trade for the first time this month on Friday and for once, investors can look forward to a relaxed start. The yuan is up 0.7% in offshore trading since its onshore counterpart last traded on Sept. 30, signaling more gains are ahead after the currency's best quarter since 2008 versus the dollar. Eyes will be on how the People's Bank of China responds with its 9:15 a.m. yuan fixing. It has recently allowed for a stronger currency, while at times acting to limit volatility.
/bloom.bg/2Szgxgd
Riksbank Releases Credit Market Memo in Wake of BlackRock Furor
Charles Daly – Bloomberg
The Riksbank took a step toward greater transparency after it was slammed by investors for keeping secret the contents of a BlackRock analysis into Sweden's credit market. In a 22-page memo compiled by a Riksbank staffer at its financial stability unit, the bank concludes that Sweden's corporate bond market is prone to a number of shortcomings that distinguish it from other markets.
/bloom.bg/34C2LPl
Brexit
U.K. Plans to Quit Brexit Talks If No Deal Clear Next Week
Tim Ross and Joe Mayes – Bloomberg
Brexit negotiations are at risk of breaking down within days after the U.K. government warned it will pull out of trade talks with the European Union if there is no clear deal in sight next week. The British pound erased most of its gains and traded little changed at $1.2891 at 3:22 p.m. in London. Boris Johnson has said he wants the outlines of a deal to be clear by Oct. 15. EU officials, however, have said they won't be pressured into making concessions and are prepared to call the prime minister's bluff if he doesn't compromise, effectively daring Johnson to walk away.
/bloom.bg/2FaR8pR
Barnier and Frost hint at space for compromises in Brexit trade talks; Optimistic comments come as new round of intensified negotiations starts in London
Jim Brunsden and Jim Pickard and George Parker – FT
The UK and EU's chief Brexit negotiators have spoken of the need to explore compromises on the most difficult issues remaining in the two sides' trade talks, as Britain's cabinet office minister Michael Gove said there was "cause for steady optimism".
/on.ft.com/30JhaIz
Despite Brexit Ultimatums, U.K. and EU Lurch Toward a Deal
Ian Wishart and Tim Ross – Bloomberg
U.K. says it will walk if Johnson not satisfied by Oct. 15; But EU officials say think enough will be done to avoid that
Just as the U.K.'s trade negotiations with the European Union look like they're heading off a cliff, there's reason to suspect things might not be as bleak as they seem. On the surface, the brinkmanship is clear: On Tuesday, the EU dared Boris Johnson to walk away from the talks by his Oct. 15 deadline if he views a deal as impossible. The very next day, Johnson's government said it fully intends to do just that, if that's what it concludes.
/bloom.bg/3iNJTSM
Italian PM urges UK to do right thing on Brexit deal
Giuseppe Conte – The Guardian
Italy's prime minister, Giuseppe Conte, has urged the British government to come good on a Brexit deal but admitted it was currently "difficult to feel optimistic" amid legal wrangling over the withdrawal agreement. "Obviously the legislative move in the UK creates tension," said Conte, referring to Boris Johnson's tabling of a bill that violates key elements of the agreement reached with Brussels last year. "But beyond this step I believe there will be an agreement in the end … and trust that the British government will be willing to reach one that ensures reciprocal advantages," he said in an interview with the Guardian and five other European newspapers in Rome.
/bit.ly/30HmMTl
Brexit strategy risks UK 'dictatorship', says ex-president of supreme court
Owen Bowcott – The Guardian
The government's Brexit strategy is in danger of driving the UK down a "very slippery slope" towards "dictatorship" or "tyranny", according to a former president of the supreme court. Addressing an online meeting of lawyers, Lord Neuberger on Wednesday evening condemned the internal market bill, which enables the government to breach international law and exempts some of its powers from legal challenge.
/bit.ly/2SAz8bt