First Read
Hits & Takes
By John Lothian & JLN Staff
Walt Lukken's home office features lots of different types of technology, including a washing machine and drier. Yes, his office is in the basement next to the laundry machines. Here, he offers an update and shares a picture of his setup. He wants you to share a picture of your home office as well, which means I need to clean up my office. BTW, my father's office was in our laundry room as well.
Walt has some important words of advice and encouragement for all of us in this commentary.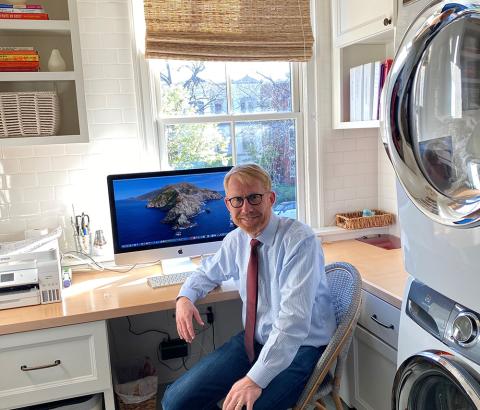 It was 31 years ago on this date that I asked Cheryl Howard to become my wife. Last September we celebrated 30 years of marriage. We went to the Royal George Theater in Chicago to see the play "Steel Magnolias" and during dinner before the show at the restaurant attached to the theater I pulled out a ring and asked her to be my wife. This was five months after we started dating. However, I knew after the first date I was going to marry her. The rest, as they say, is history.
We will be publishing more Open Outcry Traders History Project videos shortly. Coming up next will be Jack Sandner and Buck Haworth
++++
Viewpoint: news from the laundry room
Walt Lukken – FIA
Greetings to FIA members from my home office on Capitol Hill where I split my days between my makeshift offices in my laundry room and basement. It's certainly not glamorous but the good news is that I can simultaneously advocate for our markets while knocking off a couple of loads of laundry. Please post a picture of your home office on Twitter or LinkedIn with the hashtag #futuresindustryhomeoffice and we promise to recognize the best ones!
/bit.ly/2VdBsWN
***** Walt is more efficient than ever in his new office, and he even found some lost socks.~JJL
++++
Trump removes independent watchdog for coronavirus funds, upending oversight panel
Kyle Cheney and Connor O'brien – Politico
President Donald Trump has upended the panel of federal watchdogs overseeing implementation of the $2 trillion coronavirus law, tapping a replacement for the Pentagon official who was supposed to lead the effort.
/politi.co/3e7p8zZ
*****The President does not like dogs of any kind.~JJL
++++
Oil Companies Are Collapsing Due to Coronavirus, but Wind and Solar Energy Keep Growing
Ivan Penn – NY Times
The renewable-energy business is expected to keep growing, though more slowly, in contrast to fossil fuel companies, which have been hammered by low oil and gas prices.
/nyti.ms/2xblTHh
****** You can't change the direction of the way the wind blows, but you can set your sails differently.~JJL
++++
To Curb the Coronavirus, Hong Kong Tells the World Masks Work; City embraces widespread use of face coverings alongside other measures to slow spread of disease
John Lyons – WSJ
With the U.S. government recommending Americans wear facial coverings to curb the new coronavirus, this mask-obsessed city directly in the path of the pandemic's first wave is an example of a community that started early—and remains convinced that masks helped slow the contagion.
/on.wsj.com/39S3i0h
***** Turns out Asian people with masks knew something we did not.~JJL
++++
What the first world war tells us about battling coronavirus; As in 1914, Britain's economy is badly prepared for such a seismic event
Norma Cohen – FT
As the death toll and economic costs of the coronavirus outbreak make themselves felt, a swath of commentators — elected officials among them — have compared the crisis to wartime. Public pronouncements are littered with references to the Blitz and the Dunkirk spirit invoking a plucky Britain at a dark historical moment.
/on.ft.com/2JNUqhJ
***** Pick a war, you can learn from the conditions of the soldiers and all the things they died of that did not involve battle.~JJL
++++
Colleges With Empty Campuses Face an Uncertain Financial Future; Endowments are under pressure, and schools don't know how many freshmen will come to campus in autumn.
Janet Lorin – Bloomberg
The coronavirus pandemic threatens to remake U.S. higher education, speeding the closure of small, financially weak colleges and forcing others to make tough decisions about what they can afford. Even state schools may no longer be immune as tax revenue falls.
/bloom.bg/2VbYVYz
*****Those are some big, expensive empty buildings on campus.~JJL
++++
Tuesday's Top Three
Our top story Tuesday was The young and eventful Senate career of wealthy Georgia businesswoman Kelly Loeffler, from the Washington Post. Senator Loeffler, the former CEO of Bakkt and chief marketing officer at ICE, is fighting critics from both sides. Second was Bloomberg's Greed and Fear Collide: Wall Street Calls Traders Back to Office. Greed and fear collided…and greed won? Third was the practical What to Put in a Covid-19 Emergency Home-Care Kit, from the Wall Street Journal.
++++
MarketsWiki Stats
175,260,818 pages viewed; 24,092 pages; 223,771 edits
MarketsWiki Statistics
++++
Lead Stories
US regulators praise market 'resilience' after March stress test; CFTC and SEC officials say financial system held up thanks to crisis-era reforms
Kadhim Shubber and Philip Stafford – FT
US regulators have expressed relief that the infrastructure underpinning capital markets withstood the extreme volatility in prices produced by the coronavirus pandemic over the past few weeks. In interviews with the Financial Times, officials at the two federal agencies in charge of maintaining orderly markets said they had seen minimal problems even as equities and futures were buffeted amid record trading volumes.
/on.ft.com/2XizTJT
Global Finance Can't Afford to Ignore Externalities Anymore; It's a chance to take financial resilience seriously before climate change blows up the system.
Kate Mackenzie – Bloomberg
We are all grappling with coronavirus right now—both the immediate reality and what it means for the future. Governments are assuming a much bigger role in the economies of developed countries, propping up households and businesses that would otherwise be ruined by the desperate measures being taken to stop the spread of disease.
/bloom.bg/2yMKrad
The Evidence Mounts That the Global Recession Is Already Here
Bryce Baschuk – Bloomberg
Global trade flows declining deeper than the financial crisis; WTO set to slash its forecasts for world trade and GDP growth
The evidence is mounting that March marked the start of a deep global recession. The breadth of the collapse is beginning to appear in the initial trickle of economic data across the world, revealing a cratering of trade, reined-in business investment, cowering consumers and surging unemployment that's sparing few industries.
/bloom.bg/2Xhx2AS
Big trading firms form new crypto accelerator; DRW, Jump Capital, CMT Digital and Volt Capital are locking arms to give young cryptocurrency firms a boost.
Lynne Marek – Crain's Chicago Business
Some of Chicago's biggest trading firms are coming together to form a new accelerator aimed at giving young cryptocurrency firms a boost and raising the city's profile as a nexus for the industry.
/bit.ly/2x4uDz7
Companies scrap currency hedges as they seek to preserve cash; Virus shutdowns have brought revenues to a halt, prompting groups to cancel contracts
Eva Szalay – FT
As their revenues collapse under the weight of coronavirus, companies are scraping together what funds they can, including by cashing in currency hedges.
/on.ft.com/2RnVY5Y
Investors Confront Age-Old Europe Failing to Find Crisis Unity
John Ainger – Bloomberg
Italian benchmark yields jump to highest level since March 19; Eventually agreements do get reached, says Robeco's van Vliet
Investors must yet again face the fallout of the European Union's inability to come together in crisis, but this time they are up against what could be the deepest recession on record.
/bloom.bg/39S1mF3
France as Rampage Continues
James Paton – Bloomberg
At least 5,000 deaths seen in coming week in five countries; Imperial College report finds transmission stabilizes in Italy
The U.S., France and three other countries will probably experience at least 5,000 deaths each in the coming week from the new coronavirus as the contagion continues its global rampage, a new report shows.
/bloom.bg/2RlxWss
'Nightmare': 3 small-business owners describe process of applying for PPP coronavirus loans
Daniel Roberts – Yahoo Finance
The Trump administration's $349 billion Payment Protection Program launched last Friday to provide emergency loans to American small businesses devastated by coronavirus—if business owners can navigate the confusing application process.
/yhoo.it/2Vc7z9t
NYSE in talks with SEC to ease listing rules during coronavirus volatility
John McCrank – Reuters
The New York Stock Exchange said on Monday it was in talks with regulators to temporarily ease its listing requirements to take the strain off companies that may have fallen out of compliance due to the market rout spurred by the coronavirus.
/reut.rs/2XlQpJc
When Do Open Borders Make Economic Sense? A new study provides a window into the logic behind various immigration policies.
João Guerreiro, Sergio Rebelo, Pedro Teles – Kellogg Insight
Economists tend to agree that free immigration is good for a country's economy. Yet in the U.S., relatively few citizens—21 percent according to a 2018 poll—would welcome an open-border immigration policy.
/bit.ly/2Vduotu
Mass margin calls spark operational headache for buy-side and brokers; Market volatility sparked by the COVID-19 pandemic has resulted in a significant increase in prime brokers asking for more collateral from hedge funds.
Joe Parsons – The Trade
Sharp rises and falls in global financial markets caused by the COVID-19 outbreak has resulted in firms facing huge margin calls, adding increased operational pressure at a time where many are focused on ensuring they stay afloat.
/bit.ly/2xV1LcC
SEC's Clayton Says Companies Should Disclose Need for Bailout Funds; Chairman says disclosure helps limit speculation about companies' need for capital
Dave Michaels – WSJ
Public companies should disclose to shareholders whether they plan to tap coronavirus-related bailout funds from the federal government, the nation's top securities regulator said Tuesday.
/on.wsj.com/39SyAE7
The Money's Not Coming Home: $690 Billion Remittance Risk
Aine Quinn – Bloomberg
Remittance flows from migrant workers will be hit by crisis; Usually remittances are more reliable than investment flows
The amount of money migrant workers send to their home countries usually holds up well in a crisis. Not this time. Waves of job losses among overseas workers and international border closures are sapping the $690 billion annual flow of global remittances at a time when many emerging economies need hard currency more than ever. Lebanon, Ukraine and the Philippines will be among the hardest hit, while Latin America could see an 18% drop in money being sent home compared with last year.
/yhoo.it/2JPWllW
U.K. Regulator Relaxes Standards for Firms Raising Capital
Silla Brush – Bloomberg
FCA eases prospectus regulations during coronavirus pandemic; Issuers get regulatory help on working capital statements
The U.K. financial markets regulator is easing requirements on companies to help them raise capital as the coronavirus pandemic undermines the global economy. U.K. issuers will be allowed to disclose their worst-case assumptions about the fallout on their business, without having to say they face challenges to working capital, according to the Financial Conduct Authority on Wednesday.
/bloom.bg/2RmE8Aj
Why Coronavirus Conspiracy Theories Flourish. And Why It Matters; Unseen villains. Top-secret cures. In their quest for reassurance during the pandemic, many people are worsening more than just their own anxiety.
Max Fisher – NY Times
The coronavirus has given rise to a flood of conspiracy theories, disinformation and propaganda, eroding public trust and undermining health officials in ways that could elongate and even outlast the pandemic.
/nyti.ms/2Xvj0fp
Hedge Fund Stars Have to Learn to Take 'No' for an Answer; Chief risk officers were unable to prevent investment banks from going bang a decade ago. Let's hope their hedge fund counterparts have learned the lesson.
Mark Gilbert – Bloomberg
With the coronavirus pandemic triggering wild price swings, hedge funds have got their dancing shoes on as they seek to make the most of volatile values and atone for their underperformance in recent years. While the temptation is for traders to load up on risk to boost profits and bonuses, strutting their stuff like drunken uncles at a particularly raucous wedding, a couple of recent blowups suggest that the risk managers charged with curbing those enthusiasms need to stand firm in setting and abiding by risk limits.
/bloom.bg/2XkTEk0
Top Citi Banker Does Her Deal Making in the Countryside, With Barking Dogs in the Background; During the pandemic, Alison Harding-Jones is set up in an English village; there are business calls but also baking, dog walking and dodging appearances in daughter's TikToks
Julie Steinberg – WSJ
Alison Harding-Jones has established a rule for her three children to live by as she works from a home office during a national lockdown: "If you're making a cup of tea, you make Mommy one and bring it in."
/on.wsj.com/2UPWnQO
Exchange Council holds extraordinary meeting to discuss Covid-19 measures; Market continuity secured as Exchange proceeds with projects
EPEX Spot
The EPEX SPOT Exchange Council held an extraordinary meeting to discuss
the implications of the Covid-19 pandemic on EPEX SPOT markets and services.
/bit.ly/3c5YxBx
Exchanges, OTC and Clearing
CME Group Achieves Record International Average Daily Volume of 7.2 Million Contracts in Q1 2020, Up 57 Percent from Q1 2019
Wed Apr 08 2020
CME Group
CME Group, the world's leading and most diverse derivatives marketplace, today announced that it achieved record international average daily volume (ADV) of 7.2 million contracts in Q1 2020, up 57 percent year on year, and surpassing the previous quarterly record of 5.3 million contracts traded during the second quarter of 2019. This record, reflecting all trading done outside North America, was driven largely by growth in Equity and Interest Rate products, up 152 percent and 46 percent respectively.
/bit.ly/2woP49n
Farmer sentiment plummets as coronavirus concerns rise
CME Group
The Purdue University/CME Group Ag Economy Barometer recorded its largest one-month drop in sentiment during March. The barometer dipped 47 points to a reading of 121, as concerns over the impact of the global pandemic on the agricultural economy weighed heavily on farmers' minds. The Ag Economy Barometer is based on a mid-month survey of 400 U.S. agricultural producers and was conducted from March 16-20, 2020 as the coronavirus crisis escalated in the U.S. and around the world.
/bit.ly/34joE5D
SGX RegCo announces measures to support issuers amid challenging SGX
Singapore Exchange Regulation ("SGX RegCo"), in consultation with the Monetary Authority of Singapore ("MAS"), will introduce measures to support issuers amid the challenging business and economic climate due to COVID-19, including enabling the acceleration of fund-raising efforts.
/bit.ly/34nhSeR
London Stock Exchange Group plc Annual General Meeting Update London Stock Exchange Group
London Stock Exchange Group plc (LSEG / the Company) announces the following changes to the format of its Annual General Meeting (AGM) to be held at 10.30 a.m. on Tuesday, 21 April 2020.
/bit.ly/39TBqsL
TMX Group Equity Financing Statistics – March 2020
TMX
TMX Group today announced its financing activity on Toronto Stock Exchange and TSX Venture Exchange for March 2020. TSX welcomed 10 new issuers in March 2020, compared with 15 in the previous month and 10 in March 2019. The new listings were one industrial products & services company, seven exchange traded funds, one closed end fund and one financial services company. Total financings raised in March 2020 decreased 46% from the previous month and were down 27% compared to March 2019. The total number of financings in March 2020 was 42, compared with 57 the previous month and 45 in March 2019.
/bit.ly/2UUOQ3s
ASX Monthly Activity Report – March 2020
ASX
/bit.ly/2JRc4AW
Joint consultation conclusions on the model for an uncertificated securities market
HKEX
The Securities and Futures Commission (SFC), Hong Kong Exchanges and Clearing Limited (HKEX) and the Federation of Share Registrars Limited (FSR) today jointly released consultation conclusions on a proposed operational model for implementing an uncertificated securities market (USM) in Hong Kong1.
/bit.ly/2UQjpHs
Worth reading: World Economic Forum says coronavirus crisis should not be compared to 2008
Eurex
Comparisons have already been made between the coronavirus crisis and that of 2008. But viewed through the lens of exogenous and endogenous risk, they're quite different. The policy response should therefore also be different, suggests the Wold Economic Forum in a recent article.
/bit.ly/39XdwfD
Bitcoin miners made $380 million in revenue during March, new data shows
Michael McSweeney – The Block
New data gathered by The Block Research shows that bitcoin miners brought in an estimated $380.1 million during the month of March.
/bit.ly/3e4Jz0u
Fintech
DRW installs OpenGamma analytics to boost treasury trading; OpenGamma's analytics will help DRW improve its treasury trading functions to manage derivatives margin.
Hayley McDowell – The Trade
Proprietary trading firm DRW has implemented analytics from OpenGamma for its treasury trading activities to manage derivatives margin. DRW will use OpenGamma's software-as-a-service (SaaS) analytics to expand its treasury trading capabilities in response to regulations such as the uncleared margin rules, which require firms using over the counter derivatives to post margin on those transactions.
/bit.ly/2UUO5Ya
Interactive Brokers deploys SIX Group's sanctioned securities monitoring system; SIX Group's sanctioned securities data feed will allow Interactive Brokers to keep track of sanctioned entities, people and securities.
Hayley McDowell – The Trade
Interactive Brokers has expanded its monitoring of securities globally after installing a sanctioned securities monitoring system from SIX Group.
/bit.ly/2JLmRwG
Outsourced trading firm BTON automates workflows with genesis; BTON Financial has entered into partnership with genesis, which will act as the outsourced trading provider's technology partner.
Hayley McDowell – The Trade
Independent outsourced dealing desk BTON Financial has made moves to automate its trading workflows after opting to work with genesis as its technology partner.
/bit.ly/3aXUIyk
BMO finalises Clearpool acquisition; Clearpool will remain separate brand and
broker-dealer under the BMO Financial Group.
Kiays Khalil – The Trade
Canada's BMO Financial Group has completed its acquisition of US-based agency broker and algorithmic trading specialist Clearpool, after confirming the deal at the start of the year.
/bit.ly/3b53wmh
Edinburgh fintech Nucleus suspends dividend amid 'significant uncertainty' of Covid-19; Nucleus Financial Group, the Edinburgh-based fintech business, is to suspend its dividend payout amid the "significant uncertainty" caused by the global coronavirus emergency.
Scott Reid – The Scotsman
Releasing 2019 results which confirmed that its assets under administration had passed through the £16 billion mark, the firm said that it was too early to estimate the impact of the pandemic on its performance this year. Volatile stock markets in the first quarter of 2020 saw those assets fall back to £14bn.
/bit.ly/2VgihM4
Cassini Commentary: UMR Implementation One-Year Delay
UMR regulation-delay
Liam Huxley, CEO & Founder, Cassini Systems
As our clients and firms across the buy side begin to process the recent BCBS and IOSCO recommendation to delay by one year the implementation of phases 5 and 6 of the uncleared margin rules (UMR), we wanted to share why Cassini Systems supports this move.
/bit.ly/3e73PP6
DriveWealth Launches DriveHSA® to Support Health Savings Account (HSA) Industry; HSA Providers Can Leverage Comprehensive, Customizable Investing Program
DriveWealth, LLC
DriveWealth, LLC, a U.S. based leader in global digital trading technology, today announced the launch of a new Health Savings Account (HSA) division, DriveHSA®. The new division aims to transform the HSA landscape by helping HSA platform providers enhance their current offerings with modern investing tools and allowing end-users to invest in real-time fractional shares of U.S. equities, exchange-traded funds (ETFs), American Depositary Receipts (ADRs) and mutual funds.
/yhoo.it/2XjDhEw
Cryptocurrencies
Blockchain Startup Wants to Bring Women Into the Technology Fold
Matthew Leising – Bloomberg
'This whole space is being designed by guys for guys'; Lukso also wants to remake the ICO process to be more fair
A blockchain created by two veterans of the Ethereum movement is seeking to bring women into the fold while at the same time they hope to remake how digital startups raise money.
/bloom.bg/2RodK9r
Decentralized crypto exchange Bisq halts trading due to 'critical security vulnerability'
Yogita Khatri – The Block
Decentralized or non-custodial cryptocurrency exchange Bisq has halted trading until further notice due to a "critical security vulnerability."
/bit.ly/2VaGxzo
Chicago's Trading Firms Look to DeFi With New 'Alliance'
Leigh Cuen – Coindesk
Some of the most experienced trading firms in Chicago are joining forces to promote decentralized finance (DeFi) during the coronavirus recession. TD Ameritrade, Cumberland, CMT Digital, DV Trading and Jump Trading, plus venture capital firm Volt Capital and the DeFi startup Compound, all joined forces in the Chicago DeFi Alliance (CDA). Announced Wednesday, the new group will focus on providing advisory services to select crypto startups.
/bit.ly/2UPUO5o
Cryptopia users are entitled to their funds, court rules in a landmark judgment
Yogita Khatri – The Block
Users of Cryptopia exchange, which suffered a hack and went into liquidation last year, are entitled to their funds, according to a court judgment. In the 74-page landmark judgment issued Wednesday, Justice Gendall J at the High Court in Christchurch, New Zealand, said cryptocurrencies are "property" under Schedule 2 of the country's Companies Act of 1993.
/bit.ly/3e3p30k
Bitcoin Cash Undergoes 'Halving' Event, Casting Shadow on Miner Profitability
Wolfie Zhao – Coindesk
Bitcoin Cash – the blockchain that forked off Bitcoin in 2017 – has just reduced its block rewards by half, causing many miners to see gross margins drop to near zero. The world's fifth largest cryptocurrency network by market capitalization reached block height 630,000 at roughly 12:20 UTC on Wednesday – by design triggering the so-called "halving" event that reduced the network's mining reward from 12.5 bitcoin cash (BCH) per block to 6.25.
/bit.ly/3c1a4lF
French Regulators Blocklist 17 FX and Cryptocurrency Websites
Aziz Abdel-Qader – Finance Magnates
France's financial markets regulators on Tuesday warned the French public of more investment websites that do not have authorization to operate within the country. The dual regulatory structure in France, which includes the Autorité des Marchés Financiers (AMF) and the Autorité de Contrôle Prudentiel et de Résolution (ACPR), is tackling unregulated providers of FX and crypto-assets derivatives.
/bit.ly/2VeodoS
Bitcoin miners made $380 million in revenue during March, new data shows
Michael McSweeney – The Block
New data gathered by The Block Research shows that bitcoin miners brought in an estimated $380.1 million during the month of March. That figure represents a 25 percent decline compared to February, as shown in the graph below. The number is based on the assumption that miners sell their bitcoin holdings immediately and is drawn from the daily close price of BTC.
/bit.ly/3e4Jz0u
Crypto Conference Attendees Prepare to Enter a 3D Virtual World
Greg Thomson – Cointelegraph
Blockchain and cryptocurrency enthusiasts have found new ways to come together amid the global coronavirus lockdown. A crypto conference called BlockDown 2020 is scheduled to take place in the virtual realm this month, with big name personalities from the blockchain community set to appear as digital 3D avatars. Notable attendees on the docket include Binance founder and CEO Changpeng Zhao, Stellar co-founder Jed McCaleb, and NEO founder Da Hongfei. Also appearing will be Roger Ver, executive chairman of Bitcoin.com, and Erik Voorhees, CEO and founder of Shapeshift.
/bit.ly/39RMMNU
Banking API Platform Sila Raises $7.7M on Promise of Programmable Money
Nathan DiCamillo – Coindesk
Banking services provider Sila has raised $7.7 million to build out features for a platform that allows entrepreneurs to easily launch programmable, USD-pegged stablecoins. Sila is an application programming interface (API) platform for entrepreneurs to quickly tap banking tools. The platform has a developer suite that issues an ERC-20 stablecoin called SilaToken (SILA). Every transaction on the platform is done using the token, which is pegged 100:1 to the U.S. dollar (i.e., if a customer deposits $100, they receive 10,000 SILA).
/bit.ly/2XkNu3C
As coronavirus anxiety sweeps markets, Genesis Capital hit the brakes on crypto credit extension
Frank Chaparro – The Block (podcast)
Episode 11 of Season 2 of The Scoop was recorded remotely with Frank Chaparro, Ryan Todd and Michael Moro, CEO of Genesis Global Trading and Genesis Capital.
/bit.ly/34jFPnm
Politics
Markets Are Telling Trump to Listen to Experts; The president may waver on lockdowns, but investors are reassured by a flattening curve.
Joshua Green
Throughout the coronavirus crisis, Donald Trump has wavered about the quickest way to return the U.S. economy to health. Sometimes he imparts the message urged by his public health team to stay home and take precautions. Other times, he touts unproven miracle drugs like hydroxychloroquine or muses about reopening businesses prematurely. Day to day, hour to hour, often within the same briefing and sometimes within the same sentence, Trump pinballs between these two positions, desperate to rekindle the strong economy and booming stock market that were supposed to be his ticket to reelection.
/bloom.bg/39UTGBI
White House in talks to add $250bn to small business fund; Mitch McConnell says Senate should move urgently to expand $350bn loan programme
James Politi, Lauren Fedor and Brendan Greeley and Laura Noonan – FT
The Trump administration is in talks with Congress to secure an additional $250bn to fund loans for small businesses hit by the coronavirus pandemic, as pressure rose for more fiscal stimulus to help the US economy.
/on.ft.com/2URuxnc
Trump Forced by Oil War Into Unthinkable Push for Higher Prices
Jennifer A Dlouhy and Javier Blas – Bloomberg
Energy politics reshaped by unusual U.S. call to reduce output; American interests now align more with Saudi Arabia and Russia
Donald Trump is trying to do something no U.S. president has dared to do in decades: Drive up the price of oil. For more than three decades, U.S. presidents proclaimed cheap fuel as an almost God-given right for American motorists and homeowners, shaping the country's foreign policy in pursuit of lower prices. As president, Trump didn't just back cheap crude, he was its biggest supporter, frequently attacking OPEC and celebrating the shale boom's deliverance of "energy dominance."
/bloom.bg/3bYLwtC
Trump Attacks W.H.O. Over Criticisms of U.S. Approach to Coronavirus; In effect, the president sought to blame the group for the very missteps and failures that have been leveled at him and his administration.
Michael D. Shear – NY Times
President Trump lashed out on Tuesday at the World Health Organization, choosing a new political enemy to attack and threatening to withhold funding from a premier health institution even as a deadly virus ravages nations around the globe.
/nyti.ms/3cdc4aT
How different countries handle their leadership's line of succession
Annabelle Timsit, Luiz Romero, Amanat Khullar, Yomi Kazeem & Hasit Shah – Quartz
British prime minister Boris Johnson is in intensive care after his Covid-19 symptoms worsened on Monday (April 6). He has received oxygen treatment at a hospital in London, but has not been put on a ventilator.
/bit.ly/2Xm8fvA
Dr. Trump's medicine show: Why is he pushing an unproven drug? Follow the money; Is it paranoid to suspect that Trump is working a side hustle here? No, because that's basically all he's got
Bob Cesca – Salon
Donald Trump only cares about Donald Trump. He doesn't care about you or the country. He only cares about exploiting this crisis to bail out his business and to get himself re-elected, thereby shielding himself from a series of indictments that surely await him if he loses. The sooner we embrace this easily-observable fact about Trump, the better equipped we'll be to evaluate his decisions during these overlapping health and financial calamities.
/bit.ly/3e6SeQj
President says US will withhold funding from WHO following its 'missed calls' on coronavirus
Danielle Zoellner, Chris Riotta, Joe Sommerlad – Independent
As New York City's death toll from coronavirus hits 3,845, officials are considering using Hart Island in Long Island Sound off the Bronx as a temporary grave site at a time when morgues are overrun.
/bit.ly/2XhUGgD
Trump's Not the Only World Leader Bungling Coronavirus; From Russia to India and everywhere in between, mistakes have been made.
Mark Gongloff – Bloomberg
Regular readers (thanks, all seven of you!) know we spend a lot of time bemoaning the clumsy response of America's leaders to the coronavirus pandemic. But make no mistake: This is a global issue.
/bloom.bg/3aTeB9V
Regulation
Additional primary market measures to aid listed companies
UK FCA
The events surrounding the coronavirus (Covid-19) pandemic are unprecedented. The impact on people's health and the health of companies in the real economy is significant and widespread. It is likely that many companies will turn to UK capital markets to raise money to support the recovery to come.
/bit.ly/39SE7dZ
BCBS and IOSCO announce a one-year deferral of the remaining global initial margin requirements in response to coronavirus challenges
UK FCA
On 3 April 2020, the Basel Committee on Banking Supervision (BCBS) and the International Organization of Securities Commissions (IOSCO) published a joint statement(link is external) announcing a one-year deferral of the September 2020 and September 2021 phase-ins of the global initial margin requirements for non-centrally cleared derivatives.
/bit.ly/2woPT1X
Statement of Policy: listed companies and recapitalisation issuances during the coronavirus crisis
UK FCA
The FCA announces a series of measures aimed at assisting companies to raise new share capital in response to the coronavirus crisis while retaining an appropriate degree of investor protection.
/bit.ly/39RJme2
CFTC to Hold an Open Commission Meeting on April 14
CFTC
Commodity Futures Trading Commission Chairman Heath P. Tarbert today announced the postponed March 31, 2020 open meeting has been rescheduled for Tuesday, April 14, 2020 at 10:00 a.m. (EDT). The meeting will be held via conference call in accordance with the agency's implementation of social distancing due to the COVID-19 (coronavirus) pandemic.
/bit.ly/2wrXsoI
SEC Office of Compliance Inspections and Examinations Publishes Risk Alerts Providing Advance Information Regarding Inspections for Compliance with Regulation Best Interest and Form CRS
SEC
The Securities and Exchange Commission's Office of Compliance Inspections and Examinations (OCIE) has issued two risk alerts: Examinations that Focus on Compliance with Regulation Best Interest and Examinations that Focus on Compliance with Form CRS. These risk alerts provide broker-dealers and investment advisers with advance information about the expected scope and content of the initial examinations for compliance with Regulation Best Interest and Form CRS. Regulation Best Interest and Form CRS are key components of a broader package of rules and interpretations, adopted contemporaneously on June 5, 2019, to enhance the quality and transparency of retail investors' relationships with broker-dealers and investment advisers. The compliance date for Regulation Best Interest and Form CRS is June 30, 2020.
/bit.ly/2wtByl2
ESMA issues an opinion on Hungarian product intervention measures
ESMA
The European Securities and Markets Authority (ESMA), the EU's securities markets regulator, has today issued two opinions on product intervention measures taken by the Magyar Nemzeti Bank of Hungary (MNB)
/bit.ly/3aStd9f
ASIC letter to responsible entities of registered schemes in the current COVID-19 environment
ASIC
ASIC is reminding responsible entities (REs) of registered managed investment schemes about their fundamental duties and legal obligations to members as they face the market volatility, disruption and other challenges associated with COVID-19.
/bit.ly/39NTLHu
Regulators release feedback on financial institutions' preparation for LIBOR transition
ASIC
ASIC has released feedback on responses to the 'Dear CEO' letter (PDF 73KB) from selected major Australian financial institutions, detailing their preparation for the end of London Interbank Offered Rate (LIBOR) – an initiative supported by the Australian Prudential Regulation Authority (APRA), and the Reserve Bank of Australia (RBA).
/bit.ly/3aURyLE
French markets regulator backs extension of short-selling ban; AMF chairman cites uncertainty around dividends and coming downgrades to credit ratings
David Keohane and Philip Stafford – FT
The head of France's markets regulator has said he is inclined to extend the controversial short-selling ban put in place last month to restrain a violent sell-off in equity markets triggered by the coronavirus crisis.
/on.ft.com/2XjrO7W
Investing and Trading
Rent non-payments shoot up in April as US families struggle; Apartment industry survey offers latest evidence of economic toll from coronavirus pandemic
Joshua Chaffin – FT
The number of households who paid rent during the first five days of April plunged 12 percentage points from the same period in March, according to an apartment industry survey that offers further evidence of the economic toll that coronavirus is taking on US families.
/on.ft.com/39RWIXu
Covid-19 May Change Corporate Sustainability as We Know It
Emily Chasan – Bloomberg
Corporate social responsibility, or CSR, has become a shorthand for what companies do to integrate environmental, social and governance issues into their businesses. Until now it's been a mashup of philanthropy, employee engagement, renewable energy programs and investor relations. But the coronavirus pandemic will press industries and investors to make sure CSR is truly connected to delivering value.
/bloom.bg/2XnD5E7
Mortgage Borrowers Stop Making Payments With Economy Shut
Prashant Gopal and Christopher Maloney – Bloomberg
The number of U.S. homeowners who have stopped making mortgage payments is surging under the federal government's new forbearance program, according to a survey from the Mortgage Bankers Association.
/bloom.bg/2yLfR0z
The Stock Market Has Become One Big Value Trap; Misleading valuations lead financial commentary. Plus exploding debt and rising prices for rice and wheat.
Robert Burgess – Bloomberg
Watching equities rally strongly for a second consecutive day, pushing the S&P 500 Index at one point to its highest level since March 11, it was hard not to be reminded of one of the most famous lines in movie history, or at least among fans of the Star Wars franchise. In 1983's "Return of the Jedi," the rebel alliance mobilizes its forces to destroy the Death Star during the Battle of Endor. But the rebels get ambushed, prompting Admiral Gial Ackbar to shout "It's a trap!" And, just like that, equities gave up all their gains on Tuesday to post a slight decline.
/bloom.bg/2JLpyOG
A 16% Leveraged Loan Is Painful But Necessary; Someone had to be the first to test the once red-hot market. Golden Nugget casino owner Tilman Fertitta took the plunge.
Brian Chappatta – Bloomberg
Backed into a corner by the coronavirus pandemic, Texas billionaire Tilman Fertitta is rolling the dice in the leveraged-loan market.
/bloom.bg/34jum7z
Institutions
Hedge Fund Star Behind 4,000% Coronavirus Return Peers Into Crystal Ball; Mark Spitznagel's investors made over 40 times their money last quarter, but they don't have to agree with his economic view
Spencer Jakab – WSJ
Financial news outlets are full of predictions these days by investors who allegedly "called the coronavirus collapse" for what they think will happen next. A leaked client letter from a hedge fund star who made an absolute killing in the selloff promising a peak into his "magical crystal ball" is practically financial catnip.
/on.wsj.com/2xWFtag
HSBC reports potential money laundering breaches; Lender's Australian subsidiary tells regulator it may have under-reported transactions
Jamie Smyth – FT
HSBC has told Australia's financial crime agency that it may have broken anti-money laundering and counterterrorism financing laws by failing to report transactions it facilitated with foreign banks and other institutions.
/on.ft.com/3aULeUD
A $100 Billion REIT Rout Pulverizes Family Fortunes in Asia
Yoojung Lee – Bloomberg
Some of Asia's wealthiest clans have been hit by declines; The Tangs own stakes in SingHaiyi Group, Suntec, Oue REITs
The Tangs are a classic Singapore power couple. Gordon, a former professional windsurfer and avid sailor, and his wife Celine moved from China in the 1990s, founded trading firm Tang Dynasty and then established a real estate empire.
/bloom.bg/39Ww8fU
Klarman Made $1 Billion Hedging Markets. He Still Lost Money
Michael McDonald – Bloomberg
Baupost slid as much as 8% in March despite bet against stocks; Klarman sees bargains and has deployed $2.3 billion in cash
Seth Klarman made $1 billion betting against stocks and corporate credit. That wasn't enough to prevent his hedge fund from losing money last month.
/bloom.bg/2JUJzCl
Barclays Executives Donate Third of Fixed Pay to Virus Charities
Stefania Spezzati and Harry Wilson – Bloomberg
Barclays Plc's bosses are giving away a third of their fixed pay for the next six months to help people affected by the coronavirus pandemic.
/yhoo.it/2xWO2Ss
Regions
Rains bring drought relief and hope to Australian farmers; Agriculture targets A$100bn sales as it sets its sights on becoming Asia's 'food bowl'
Jamie Smyth – FT
Two months ago Ian Clifton was unsure whether his family's century-old cattle farm would survive a three-year drought that killed one in 10 of his herd. But when the rains finally arrived in late January, it turned his barren paddocks into a sea of lush, green grass that is transforming his business.
/on.ft.com/2JR8J58
Canada's oil groups battle for survival; Sector scrambles to staunch crude output after local price sinks below $5 a barrel
Derek Brower – FT
Five years after the last crude price crash, 2020 was supposed to mark a recovery for Alberta, the heart of Canada's oil sands boom. The coronavirus pandemic and Russia-Saudi price war have dashed those hopes.
/on.ft.com/3aWGoGc
EU science chief resigns with blast at coronavirus response; European Research Council's Mauro Ferrari hits out at lack of co-ordinated action on Covid-19
Clive Cookson and Michael Peel – FT
The president of the European Research Council — the EU's top scientist — has resigned after failing to persuade Brussels to set up a large-scale scientific programme to fight Covid-19.
/on.ft.com/3aVOxuD
Hungary's Tightening-QE Mix Leaves Market Confused on Forint
Marton Eder – Bloomberg
Central bank added room to tighten, announced bond stimulus; Strategists suggest both long and short forint trades
The Hungarian central bank's policy overhaul is leaving analysts confused over the outlook for the forint and monetary conditions. Rate setters opened the way to higher short-term borrowing costs on Tuesday, while also announcing government bond purchases and extending credit to companies, tightening and easing financing conditions at the same time.
/bloom.bg/2Xjvfv7
China Braces for Wave of Soured Loans With New Bad-Debt Manager
Bloomberg News
Move creates first new national bad-debt manager in 20 years; Virus may swell China's bad-debt pile by $790 billion: S&P
Amid all China's efforts to contain the economic damage of the coronavirus outbreak, a crucial development slipped by almost unnoticed — the creation of the first national bad-debt asset manager in 20 years.
/bloom.bg/2Xhz1Fk
China's Dollar Bond Pain Shows Limits of State Intervention
Bloomberg News
Policy makers face bigger hurdles influencing offshore markets; $87 billion is due in 2020 as issuance slows to a trickle
Beijing's grip over capital markets is being tested by Chinese companies' exposure to the offshore bond market, where $87.3 billion owed by the nation's firms comes due this year.
/bloom.bg/34jklqZ
One Nation Wants to Double Oil Drilling Just as Prices Crash
Amy Stillman and Peter Millard – Bloomberg
Big-spending Pemex stands out as regional peers slash outlays; Other top regional producers are cutting spending and output
Outside of Saudi Arabia and Russia, most oil producers are racing to deal with the historic oil price collapse by cutting back spending and in some cases production. But Mexico's national oil company is acting like the crash never happened.
/bloom.bg/3c0veQX
Japan to Fund Firms to Shift Production Out of China
Isabel Reynolds and Emi Urabe – Bloomberg
Pandemic budget includes 240 billion yen to support moves; Policy comes after Xi visit to Japan was postponed on virus
Japan has earmarked $2.2 billion of its record economic stimulus package to help its manufacturers shift production out of China as the coronavirus disrupts supply chains between the major trading partners.
/bloom.bg/2Vbnk0v
New blow for Edinburgh economy as TV Festival is called off; Edinburgh's long-running TV Festival has become the latest major event in the city to pull the plug on its planned programme in August in the face of the coronavirus pandemic.
Brian Ferguson
The Edinburgh International Television Festival, which has been running for 45 years, is long-established as the industry's biggest annual event in the UK.
/bit.ly/2VePWFQ
Coronavirus: Wuhan emerges from the harshest of lockdowns
John Sudworth – BBC News
For the first time in months, people have been allowed to leave the Chinese city of Wuhan, where the virus emerged before spreading across the world. The authorities have hailed this moment as a success – but residents had markedly different experiences of what is arguably the largest lockdown in human history. It took 76 days, but Wuhan's lockdown is now at an end. The highway tolls have reopened, and flights and train services are once again leaving the city. Residents – provided they're deemed virus free – can finally travel to other parts of China.
/bbc.in/2V5AE6g
Australian Banks Slump After First Lender Defers Dividend
Emily Cadman – Bloomberg
Shares in Australia's biggest banks slumped Wednesday after the Bank of Queensland Ltd. become the first to delay its dividend as the prudential regulator urged lenders to reduce payouts during the coronavirus crisis.
/bloom.bg/2xYJ73z
China's Dollar Bond Pain Shows Limits of State Intervention
Bloomberg News
Policy makers face bigger hurdles influencing offshore markets; $87 billion is due in 2020 as issuance slows to a trickle
Beijing's grip over capital markets is being tested by Chinese companies' exposure to the offshore bond market, where $87.3 billion owed by the nation's firms comes due this year.
/bloom.bg/2JLJ4L7
Brexit
Brexit Negotiators Want To Start Talking Despite Virus Setbacks
Ian Wishart – Bloomberg
Talks were on hold with officials on both sides struck down; U.K. plans to share more legal texts with EU counterparts
The British government plans to restart talks with the European Union over the two sides' future relationship as soon as this month after they were thwarted by the coronavirus.
/bloom.bg/3e7JXeC
Brexit trade talks continuing in 'difficult times'
BBC News
Post-Brexit trade talks are continuing with the EU "in these difficult times", according to the UK's chief negotiator. David Frost said he and his EU counterpart, Michel Barnier, would decide a timetable for further discussions in April and May. Opposition parties have called for a delay to the December deadline for reaching an agreement in light of the coronavirus outbreak. But No 10 has consistently said it will stick to the timetable.
/bbc.in/3e2tqst
Johnson siblings' bond strong as ever as family faces toughest test
Aamna Mohdin – The Guardian
Through decades of personal and political clashes, the Johnson family seem to have maintained a remarkable bond – and as Boris is treated in intensive care, the ties with the rest of his clan are as indelible as ever.
/bit.ly/2Rm58jI
Miscellaneous
'It's a racial justice issue': Black Americans are dying in greater numbers from Covid-19
Kenya Evelyn – The Guardian
While New York's Governor Andrew Cuomo once called the coronavirus a "great equalizer", data shows the virus has been anything but indiscriminate. As the US climbed to more than 10,000 coronavirus deaths on Monday state health officials grappled with its disproportionate impact on black Americans. The disparity is especially stark in cities like New Orleans, Chicago and Detroit, where high concentrations of African Americans live.
/bit.ly/2xUjGjv